Cat Lift Trucks Large IC Pneumatic DP160N2
Cat Lift Trucks

Large IC Pneumatic DP160N2

DP100N2-DP160N2
Model

DP160N2

Max Lift Capacity

36000

Max Lift Height

263.5
Built with your business in mind, the Cat® DP100N2-DP160N2 pneumatic tire lift truck series provides optimum power and reliability to tackle the toughest material handling applications. Equipped with the high performance Perkins® 1204E 4.4L engine, this series offers increased fuel efficiency, reduced emissions and a lower overall operating cost.
Productivity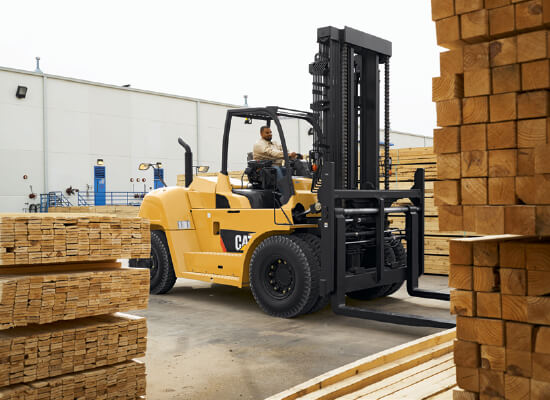 Perkins® 1204F Diesel Engine – This class 5 forklift series is equipped with a powerful Tier 4 Final twin-turbo 4.4L four-cylinder diesel engine. This high-performance engine offers 13% more fuel efficiency than the previous generation for greater cost savings.
Maintenance-Free Emissions System – This class 5 forklift meets or exceeds all EPA Tier 4 Final regulations with the help of a maintenance-free Selective Catalytic Reduction (SCR) aftertreatment system.
Sequential Twin-Turbochargers – The high-efficiency turbochargers are designed to deliver an exceptional boost at a wide RPM range for outstanding engine power and performance.
Powershift Transmission – Matched with the powerful Tier 4 Final engine, the sturdy transmission delivers excellent torque for some of the most demanding applications. The torque converter is tuned to deliver maximum torque at different loads, and the 3-speed shift in both forward and reverse prevents high engine rev-up, providing a smooth ride and a reduction in fuel consumption for overall cost savings.
LCD/LED Display – Allows your lift truck operator to easily view and monitor all critical systems during operation, helping to minimize unnecessary downtime and helping to reduce costs.
Durability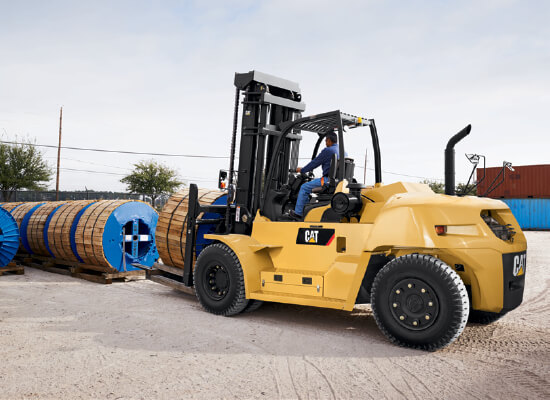 Engine Protection System – Monitors engine oil pressure, transmission fluid and coolant temperatures to protect the system from damage. Operators are kept informed through the display if critical levels are reached.

Steel Frame – This class 5 forklift is reinforced with longitudinal full-length steel plates for additional durability in tough and demanding applications.
Serviceability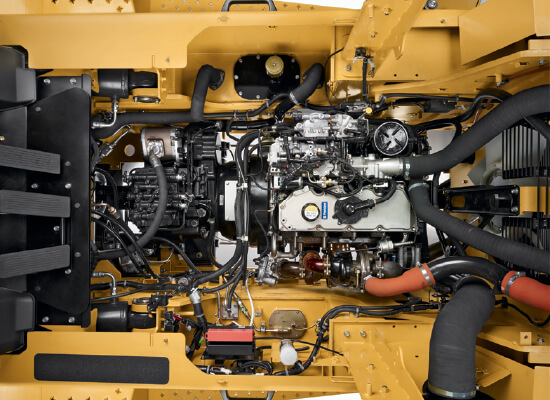 Easy Engine Access – This forklift features an easily accessible rear-hinged engine hood allowing quick access to major components for routine maintenance.
500-Hour Service Intervals – Spend less time and money on forklift preventative maintenance with extended 500-hour service intervals.
Awareness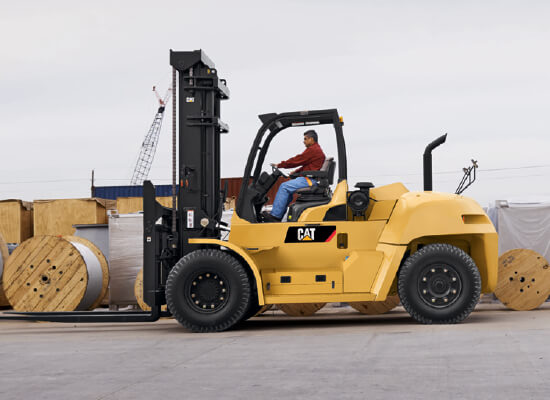 Operator Presence Detection System (PDS) – Activates when the seat belt is not fastened during operation or if the operator abandons the forklift without initiating the parking brake. Indicators, both audio and visual, will trigger to alert the operator.

Orange Anti-Cinch Seat Belt – The bright orange color is easily spotted from a distance, making it clear when operators are properly wearing their seat belt.
Forward LED Worklights – LED lights burn longer and brighter, helping to greatly reduce maintenance costs over the lifetime of the forklift. These LED worklights are also covered under the forklift's standard warranty.
Operator Comfort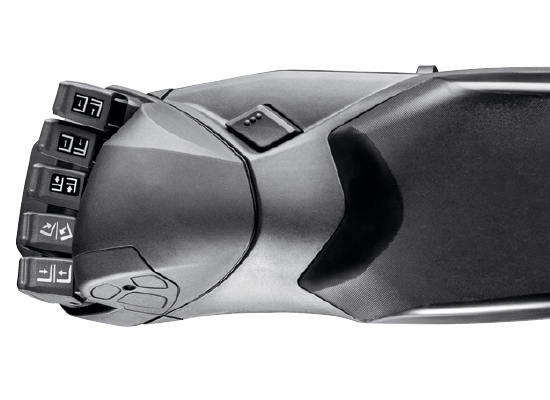 Armrest Fingertip Control – The highly-ergonomic armrest enables precise load control through low-effort levers, an adjustable support and excellent hand positioning.
Entirely Hydrostatic Steering System – Designed for easier steering and maneuvering.
Optional Full-Suspension Vinyl Grammer® Seat – This seat helps reduce shock and vibration while optimizing comfort and productivity via 4-way adjustments, lumbar support, weight suspension and forward/backward adjustments.
Cab Options – For maximum operator comfort and protection from the elements, this lift truck can be equipped with a fully-enclosed panel cabin and wide cabin options that include:
Spacious operator compartment
High capacity heater system with defrost to circulate air evenly in the whole cabin
New floor plates design with easy access for service
Optional A/C package
Elevated air intake pre-cleaner to prevent contaminants from prematurely clogging the air filter
High output alternator and auxiliary power plugs to allow for additional accessories
Operator fan
Premium double folding doors with the ability to lock in the open position
| | |
| --- | --- |
| Application Type | Outdoor |
| Min Lift Capacity | 0 |
| Max Lift Capacity | 36000 |
| Max Lift Height | 263.5 |
| Min Lift Height | 0 |
| Power Type | Diesel |
| Primary Function | LoadingUnloading |