Cat Lift Trucks IC Pneumatic DP55N
Cat Lift Trucks

IC Pneumatic DP55N

GP40N-GP55N
Model

DP55N

Max Lift Capacity

12000

Max Lift Height

238
Designed to work in the most challenging applications, the GP/DP40N-GP/DP55N series of lift trucks provides increased efficiency and productivity, making them ideal for heavy-duty applications, such as lumber, cement and pipe. The DP40N-DP55N diesel models also feature a Mitsubishi Tier 4 Final engine - delivering high performance, increased fuel efficiency and lower overall emissions.
Productivity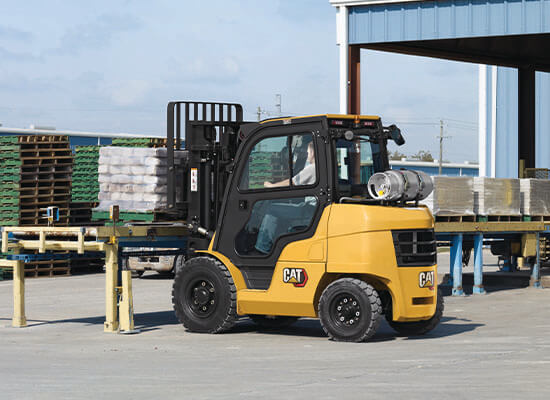 GK45 4.5L EPA-Compliant Gas & LP Engine – This six-cylinder inline engine is designed to work in the most demanding conditions while employing reliable and proven technology.
Mit D04EG-T Tier 4 Final Diesel Engine – This 4-cylinder, turbo charged engine delivers 6-cylinder power in a 4- cylinder package, exceeding EPA emissions requirements with its low maintenance emissions system.
Maintenance-Free Emissions System – The use of the truck's maintenance-free emissions system allows for EPA guideline requirements to be met.
Fuel Saver Mode – Can lower overall fuel costs by up to 14% without affecting top travel speed.
LCD/LED Display – Operator can monitor all critical systems during operation to help reduce costs and the risk of excessive downtime.
Durability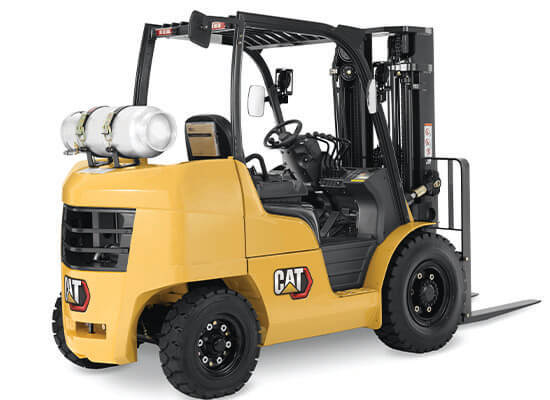 Engine Protection System – This system helps protect the system from damage by monitoring engine oil pressure, transmission fluid and coolant temperatures. Engine activity levels are displayed through the easy-to-read LCD monitor.

Steel Frame – The forklift features a rugged, steel frame for added strength.
Serviceability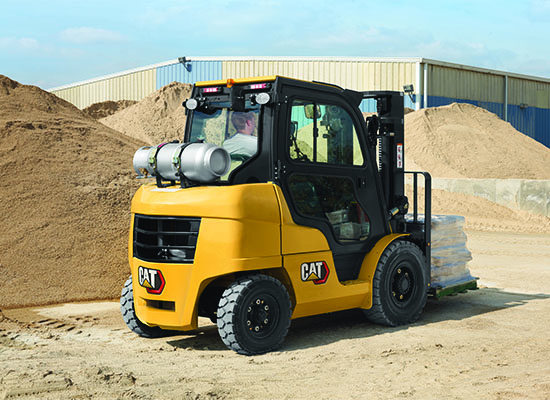 Engine Access – The rear-hinged engine hood provides easy access to service components when needed. Access to the engine compartment is easily and quickly achieved without tools for greater uptime and lower maintenance costs.

500-Hour Service Intervals – Extended 500-hour service intervals mean that less money and less time will be spent on preventative maintenance over the life of the truck.
Awareness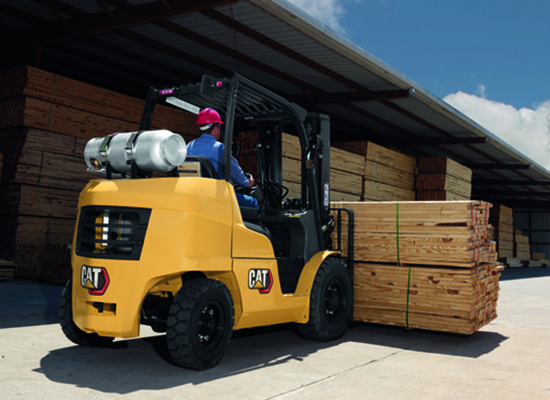 Presence Detection System (PDS) - Audio and visible indicators activate if the operator's seat belt isn't secure during operation or if they leave their seat without lifting the parking brake.
Forward LED Worklights - Provide greater illumination and last longer than traditional halogen or incandescent lights.
Highly-Visible Orange Seat Belt - Easy-to-view from a distance.
Electronic Back-Up Alarm - Increases awareness in the work area.
Operator Comfort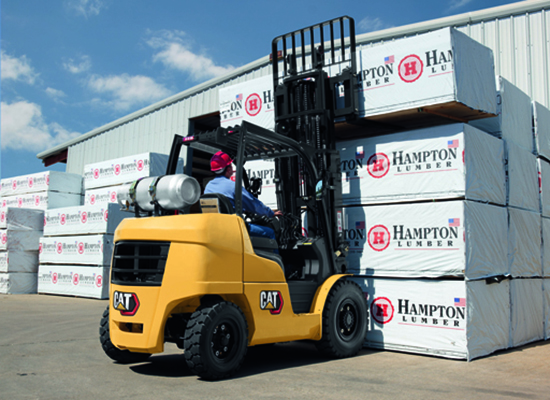 Optional Full-Suspension Vinyl Grammer® Seat – This seat helps reduce shock and vibration while optimizing comfort and productivity via 4-way adjustments, lumbar support, weight suspension and forward/backward adjustments.

Noise and Vibration Reduction – The forklift features a fully-insulated steel engine hood, rubber mounted components and a fully-enclosed wheel well - all are designed to provide a more comfortable work environment with less noise and vibration.
Tilt Steering Column -Equipped with a two-lever system designed to adjust and lock with the largest range possible.
| | |
| --- | --- |
| Application Type | Indoor/Outdoor |
| Min Lift Capacity | 0 |
| Max Lift Capacity | 12000 |
| Max Lift Height | 238 |
| Min Lift Height | 0 |
| Power Type | GasLPDiesel |
| Primary Function | LoadingUnloading |