Cat Lift Trucks Electric Cushion EC18LN
Cat Lift Trucks

Electric Cushion EC18LN

EC15N-EC18LN
Model

EC18LN

Max Lift Capacity

Up to 4000

Max Lift Height

217
Combining the latest in operator ergonomics and advanced AC technology, the Cat® EC15N-EC18LN electric cushion tire lift truck series gives your operators the tools they need to drive your business forward.
PRODUCTIVITY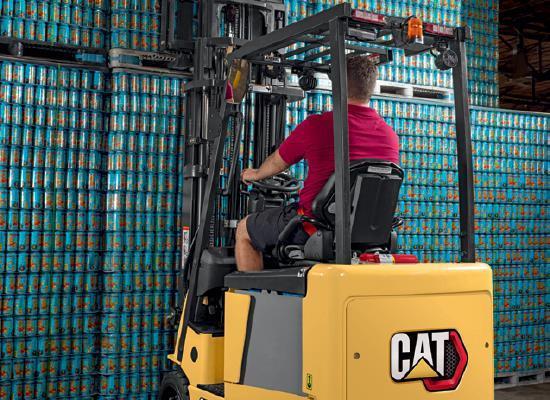 Work longer with up to two shifts on one battery charge without sacrificing performance, thanks to Cat Lift Trucks 3-phase AC technology and regenerative braking.
Advanced drive system – no brushes or commutator
AC hydraulic system
Enhanced electric power steering
DURABILITY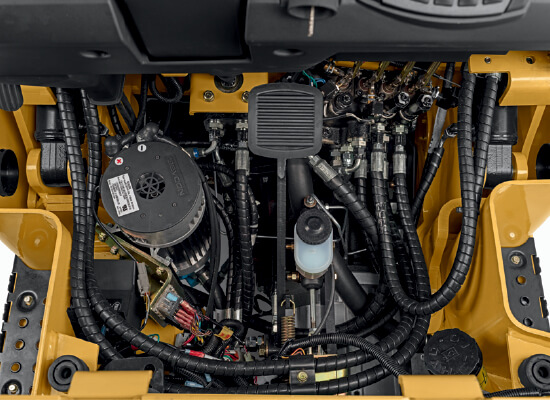 Together, convenient service intervals and sealed components add up to greater uptime – to keep your business moving.

Battery Compartment Design
For extra protection and reduced noise, the unique battery compartment design features strategic spacers and an additional edge cover.
Protected Wiring
Routed inside of the legs of the overhead guard for extra protection.
Serviceability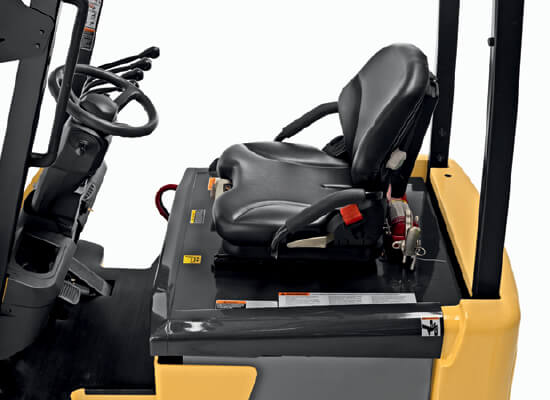 Easy access to core components:
AC drive motor
Hydraulic motor and controllers
No tools required to remove floorboard
500-hour convenient service intervals
Less time doing maintenance equates to more time on the floor moving product.
Motor Protection System
Display-based indicators notify the operators when motor maintenance is required, resulting in greater uptime while helping to reduce the risk of more costly maintenance needs down the line.
Awareness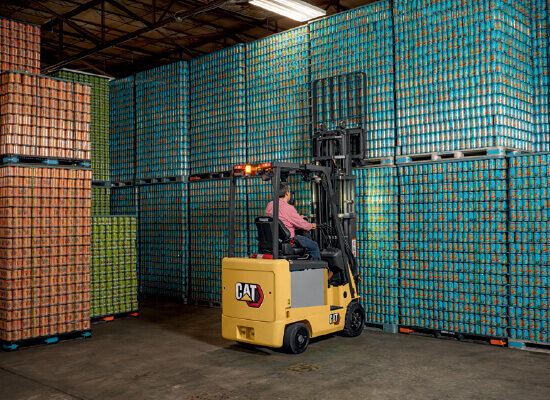 This integrated, computer-based feedback system uses both audible and visual indicators to alert the operator to potentially hazardous situations, while increasing operator awareness.
When the operator is not in the normal operating position, the Presence Detection System electronically discontinues powered-travel movement and load-handling functions.
When an operator is in the normal operating position, but the seat belt is not buckled, an audible warning will sound and a visible indicator will appear, alerting the operator.
OPERATOR COMFORT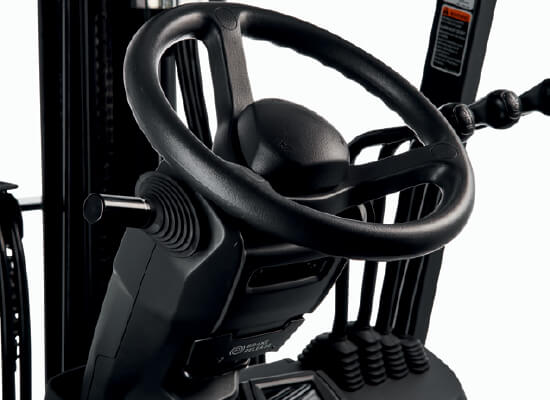 Full Hydrostatic Power Steering – Fully hydrostatic power steering provides exceptionally lower steering effort than conventional steering systems.
Standard Full-Suspension Vinyl Grammer® Seat– This seat helps reduce shock and vibration while optimizing comfort and productivity via 4-way adjustments, lumbar support, weight suspension and forward/backward adjustments.

Floorboard And Pedals – Generous floor area with through-the-floor pedal design, which helps promote natural motion during operation.
More Efficiency, Less Maintenance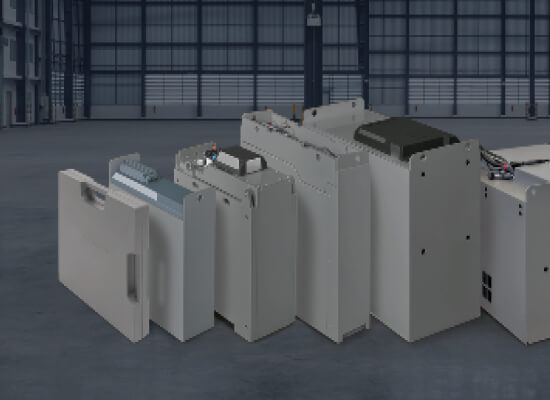 The Lithium-ion battery package provides the highest performance battery solution.
High performance batteries that are synchronized with the lift truck and charger for optimal energy efficiency
No maintenance requirements and a longer service life mean each truck offers more daily use, increased throughput and reliable 24/7 output
No more battery change outs, watering and degassing areas
Maximize truck productivity through opportunity charging that can be interrupted anytime
5-year battery warranty included
| | |
| --- | --- |
| Application Type | Indoor |
| Min Lift Capacity | 0 |
| Max Lift Capacity | 4000 |
| Max Lift Height | 217 |
| Min Lift Height | 0 |
| Power Type | Electric |
| Primary Function | Put Away/Retrieval |