Cat Lift Trucks IC Cushion 2C6500
Cat Lift Trucks

IC Cushion 2C6500

2C3000-2C6500
Model

2C6500

Max Lift Capacity

6500

Max Lift Height

221
These rugged, compact lift trucks, in capacities of 3,000-6,500 lbs., are equipped with GK21 / GK25 LP gas engines that provide excellent horsepower and torque for hard-working material handling environments. The fuel management system optimizes fuel economy and extends tire life with the Fuel Saver Mode while meeting required EPA and CARB requirements.
Productivity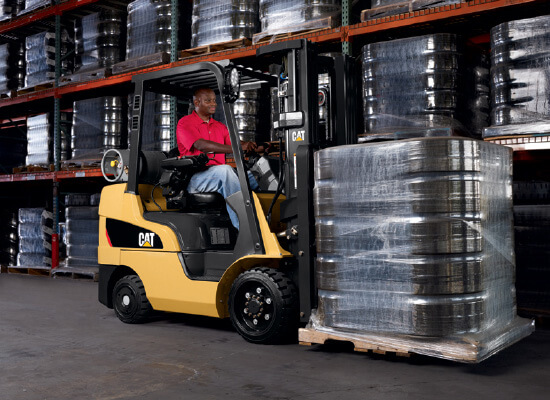 GK21 / GK25 LP Gas Engines – The enhanced performance of these engines provides reliable operation in the toughest conditions and the power needed to enhance productivity while meeting the emissions standards of the EPA. Equipped with an engine protection system (EPS), which monitors the entire system to ensure maximum production, these engines are engineered to produce minimal vibration, noise and emissions.

Powershift Transmission – The torque converter of the transmission is precisely matched to the engine to provide high levels of torque and a smooth ride.
Short Turn Radius – Short turn radius (STR) models have extra-heavy lead-filled counterweights allowing for greater maneuverability and rearward visibility in confined areas.
LCD/LED Display – Operator can monitor all critical systems during operation to helps reduce costs and the risk of excessive downtime.
Durability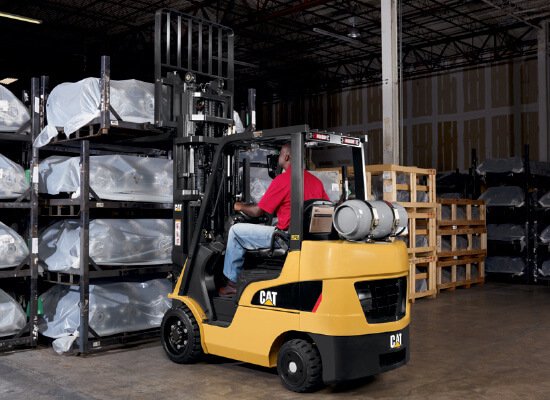 Engine Protection System – Checks engine oil pressure, transmission fluid and coolant temperatures to protect the system from damage. An LCD display informs operators of critical component levels.

Steel Frame – Increased steel in the lift truck frame translates to a gas forklift truck with lasting durability.
Serviceability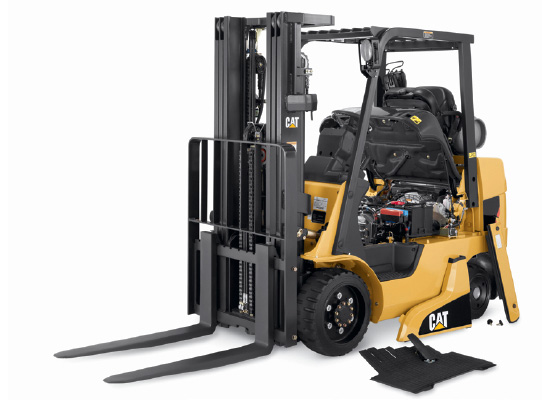 Engine Access – The engine hood is rear hinged and provides easy access to major components to service your LP gas powered forklift. Access to the engine compartment is easily and quickly achieved without tools to help ensure less downtime.
500-Hour Service Intervals – Extended 500-hour service intervals mean that less money and less time will be spent on preventative maintenance over the life of the truck.
Awareness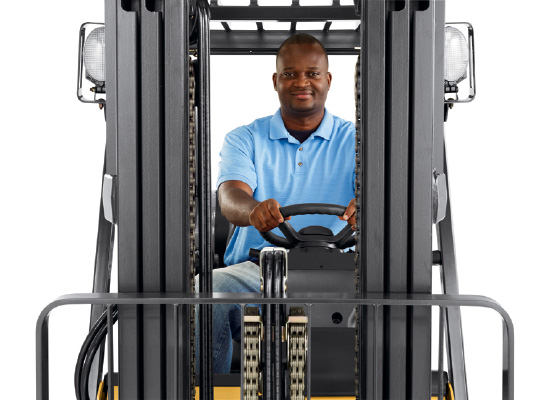 Presence Detection System (PDS) – Activates when the operator does not fasten the seat belt during operation or leaves the normal operating position without activating the parking brake. Audible and visual indicators activate to help increase the operator awareness.

Orange Anti-Cinch Seat Belt – The bright orange color can also be easily seen from a distance, making it easier to clearly see when operators are properly wearing their seat belt.
Forward LED Worklights – LED worklights burn longer and brighter as compared to traditional halogen or incandescent lights, resulting in significant maintenance savings over the long run. Lights are also covered under the standard warranty.
Operator Comfort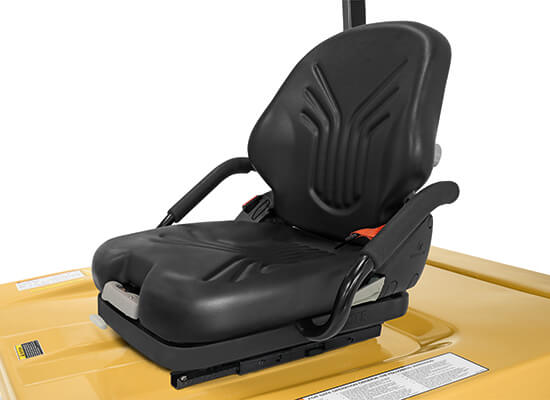 Standard Full-Suspension Vinyl Grammer® Seat – This seat helps reduce shock and vibration while optimizing comfort and productivity via 4-way adjustments, lumbar support, weight suspension and forward/backward adjustments.

Vibration Reduction – Updated design features (including a fully-insulated engine hood, rubber mounted components, fully-enclosed wheel wells and helical transmission gears) reduce the vibration and noise for a more comfortable ride.
Fully-Hydrostatic Steering System – Uses hydraulic oil flow, making it easier to maneuver.

Easy-To-Reach Fingertip Controls In An Adjustable Armrest (Optional) – Access multiple functions and precise controls while experiencing outstanding comfort throughout the workday.
| | |
| --- | --- |
| Application Type | Indoor/Outdoor |
| Min Lift Capacity | 0 |
| Max Lift Capacity | 6500 |
| Max Lift Height | 221 |
| Min Lift Height | 0 |
| Power Type | GasLP |
| Primary Function | Put Away/Retrieval |