Jungheinrich Moving-Mast Reach Truck ETV C20
Jungheinrich

Moving-Mast Reach Truck ETV C20

ETV C16/C20
Model

ETV C20

Max Lift Capacity

4400

Max Lift Height

320
The ETV C16/C20 series of reach trucks is suitable for operation on a smooth concrete floor in the warehouse or for loading/unloading on a bumpy asphalt surface. The side-facing seat provides excellent visibility when transporting high loads, and the design and layout of the controls contribute to excellent visibility. Whether handling pallets, operating in single or multi-shift applications or frequently working outside, these 3,500-4,400 lb. capacity reach trucks provide the ideal solution.
Productivity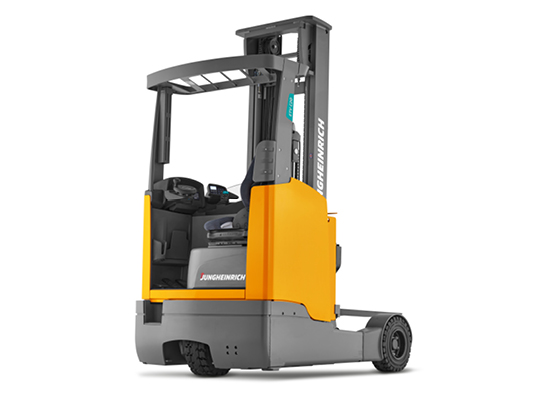 These reach trucks feature advanced AC technology for superior performance - delivering smooth directional changes, precision speed control and superior acceleration.
Runs longer on a single battery charge as a result of efficient design and regenerative braking feature, which recycles lost energy and feeds it back to the battery for greater efficiency.
Equipped with solid pneumatic tires that perform well on both smooth floors and bumpy asphalt surfaces.
A more comfortable cabin evironment with SOLO-PILOT control handle and plenty of leg room.
Awareness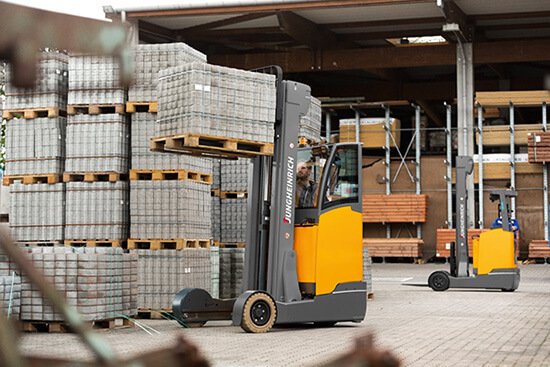 Patented mast-reach cushioning, with travel speed automatically reduced to crawl speed if the load is raised above the free-lift height.
Jungheinrich® Curve Control for advanced stability during cornering.
Truck performance software can be adjusted to meet your specific drive and hydraulic performance needs or limits.
Energy Efficiency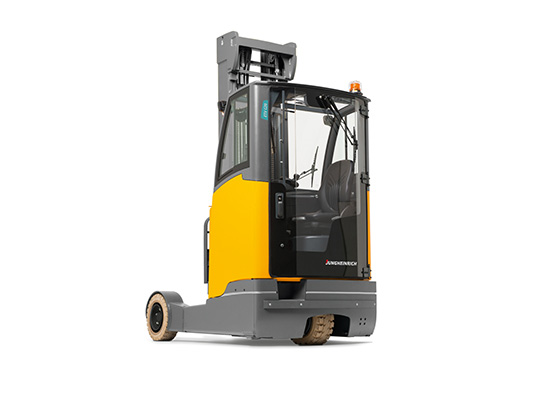 Designed with 3-phase AC technology for drive, lift and steering, the ETV series of reach trucks offers several advantages, including:
Longer operating times due to energy reclamation during braking.

3-phase AC technology that consumes less energy, leading to longer battery life and increased operating time.
Ergonomics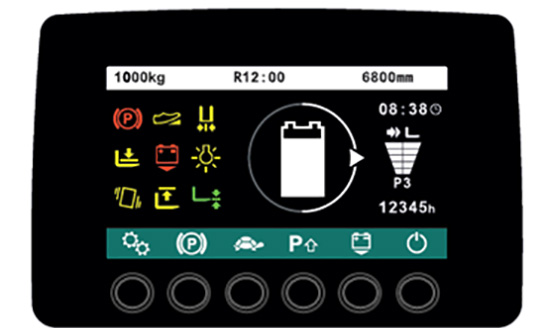 Despite being designed as a narrow aisle forklift, these trucks' spacious operator compartments combine comfort and functionality to improve operator efficiency.
3-way adjustable full-suspension seat for maximum operator comfort.

soloPILOT and multiPILOT handles now offer a more intuitive control for operators.

The easy-to-read operator 4" LED bright-color display makes it easy for operators to remain fully aware of truck status at all times.

This sturdy mast and narrow, angled overhead guard promote good visibility to the load even in high stacking applications.

Total Cost Of Ownership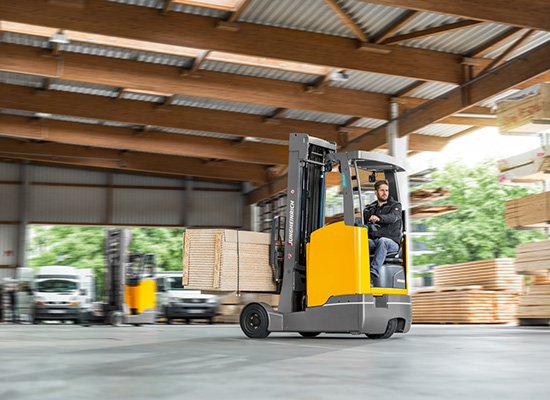 Patented and proprietary mast reach cushioning allows for an improvement in operational productivities and increases lifespan.
The cushioning will not jar the truck during mast lowering stage transitions, increasing operator confidence & improving their experience, thus increasing productivity and reducing stresses on mast & related components.
Efficient, high performance motor minimizes energy consumption while maximizing productivity.
Exclusive 5-Year Powertrain Warranty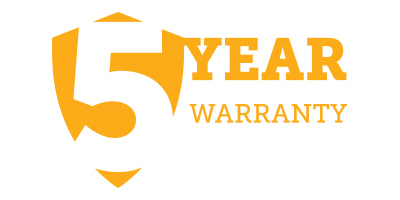 Expect more from Jungheinrich, the experts in warehouse products, like a 5-year / 10,000 hour powertrain warranty that outperforms others. Available on all Jungheinrich Class I and II products sold across the United States, Canada and Mexico, the coverage includes parts and labor on all forklift components. Rest easier knowing that we're here to help keep your fleet running – shift after shift – when you need it most.
| | |
| --- | --- |
| Application Type | Indoor/Outdoor |
| Min Lift Capacity | 0 |
| Max Lift Capacity | 4400 |
| Max Lift Height | 320 |
| Min Lift Height | 0 |
| Power Type | Electric |
| Primary Function | Put Away/Retrieval |