Jungheinrich Tow Tractor EZS C40NA
Jungheinrich

Tow Tractor EZS C40NA

EZS 350NA/C40NA
Model

EZS C40NA

Max Lift Capacity

0

Max Lift Height

0
The 8,800 lb. and 11,000 lb. capacity tow tractor has the ability to hitch several trailers together, providing added flexibility in most material handling operations. The forklift's high performance is due to the AC drive motor, which provides powerful acceleration and high travel speeds with significant energy efficiency, in addition to longer operating times and low maintenance.
Productivity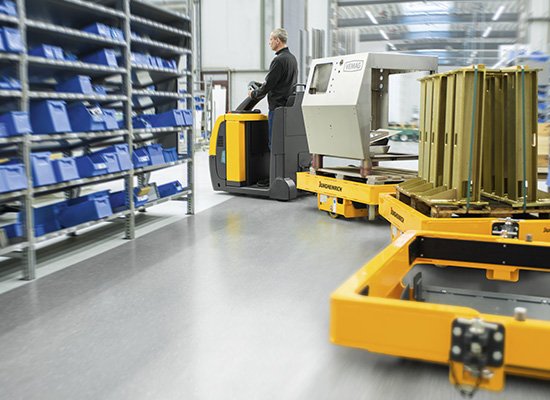 The Jungheinrich® 3-phase AC motor and high-output AC controller deliver powerful torque and quick acceleration.
A short turning radius provides excellent maneuverability, helping operators move efficiently in tight spaces.
Extended run times – up to two shifts on a single battery charge – keep your tow tractor on the job longer.
Optional Forward and Reverse Touch Control buttons allow the operator to advance the truck while order picking without having to get back on each time. Moving in reverse also eases trailer connections.

Awareness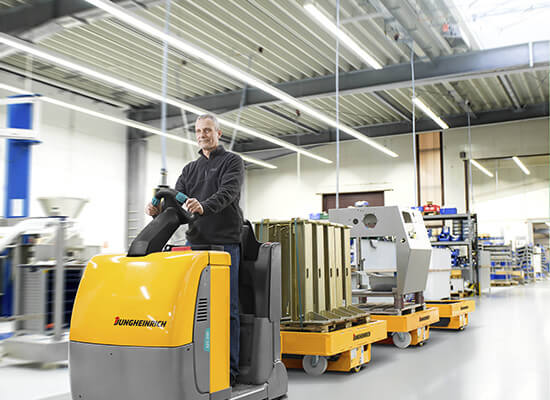 Jungheinrich Curve Control automatically reduces speed while turning corners, helping to ensure control over loads.
The electronic parking brake automatically engages on ramps and inclines, reducing the chance for rollback.
An operator presence switch is integrated into the platform, so the truck will not move without the operator aboard.
Energy Efficiency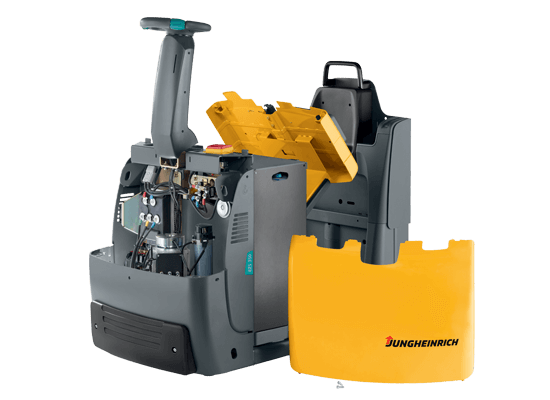 High energy efficient tow tractor due to AC drive motor.

The Jungheinrich AC drive motor and AC controller are specifically tuned in-house to maximize performance and energy efficiency for greater uptime.

Regenerative braking feature recovers potentially lost energy, feeding it back to the battery for greater efficiency.
Ergonomics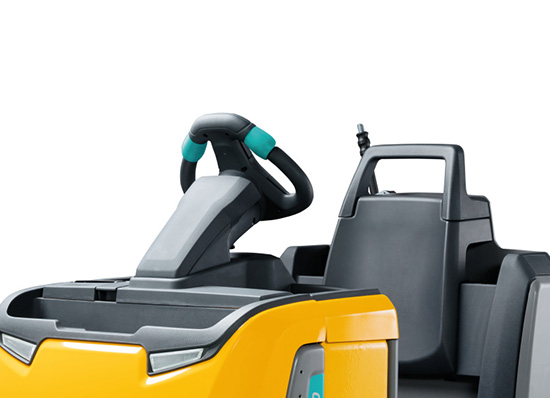 The unique JetPilot steering wheel provides this tow tractor with effortless, intuitive steering for maximum control.
Solid pneumatic rear wheels absorb shock and vibrations caused from uneven floors – exclusive to Jungheinrich.
A cushioned floor pad, along with a padded backrest and knee pad keep the operator comfortable throughout their shift. An optional flip-down seat is also available.
The industry's lowest step height, 4.9 inches, means the operator will not be fatigued getting on and off frequently while order picking.
Total Cost Of Ownership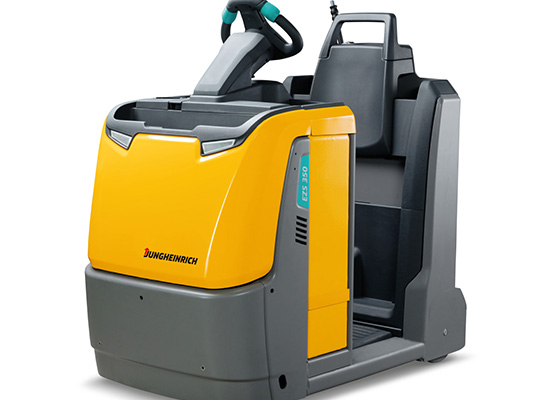 A heavy-duty, removeable steel hitch plate accepts a wide variety of hitch types saving time and money.
Thick, steel chassis provides superior protection from possible impact damage.
Effective design between the drive motor, electric controller and regenerative braking function decreases maintenance needs.
| | |
| --- | --- |
| Application Type | Indoor/Outdoor |
| Min Lift Capacity | 0 |
| Max Lift Capacity | 0 |
| Max Lift Height | 0 |
| Min Lift Height | 0 |
| Power Type | Electric |
| Primary Function | GroundLevelTransport |