Jungheinrich Tow Tractors EZS 7280 NA XL
Jungheinrich

Tow Tractors EZS 7280 NA XL

EZS 7280NA
Model

EZS 7280 NA XL

Max Lift Capacity

0

Max Lift Height

0
The EZS 7280 NA tow tractor is ideal for transporting heavy loads long distances in indoor or outdoor applications. Its automotive-style interior and operation provide familiarity and ease-of-use for the operator.
Productivity
Maximum travel speeds of 15.5 mph (unloaded) and 7.5 mph (loaded) allows the operator to reach the intended destinations quickly and effectively.
Attaching trailers is quick and easy with the EZS 7280 touch mode feature. Additionally, the cutouts on the rear panel of the truck provide excellent view to the coupling from the operator's seat.
Tow up to 9.5T (21,000 lbs.) on 10% grade ramps.
Even servicing is made faster and easier on the EZS 7280. All parts and components are easily accessible.

Awareness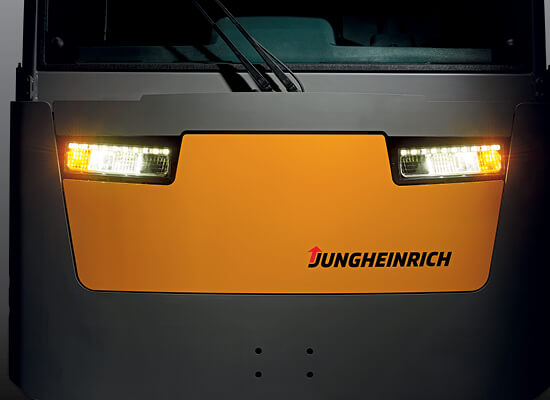 Automatic parking brake with roll-back protection ensures when the truck comes to a stop, the tow tractor and trailer are automatically secured.
Hill-start assist provides no roll-back when starting on a ramp or incline, and anti-skid control (ASC) ensures smooth reliable acceleration on any surface.
Available with Jungheinrich curveCONTROL to automatically reduce speed while turning corners and help ensure control over loads.

Energy Efficiency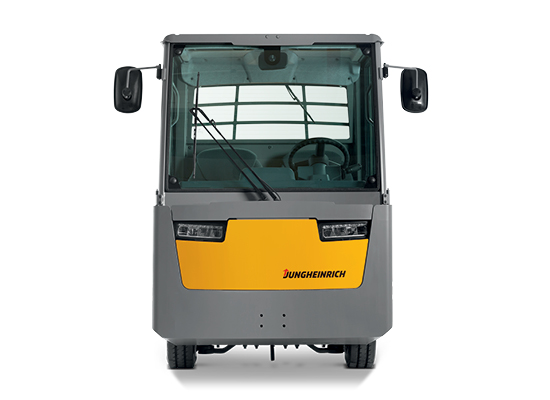 Energy-efficient 3-phase AC technology consume less energy, leading to extended battery life and increased run times.
The EZS 7280 offers two different wheelbases, NA and XL, for different battery sizes with a maximum capacity of up to 930 Ah to maximize performance and energy efficiency.
Ergonomics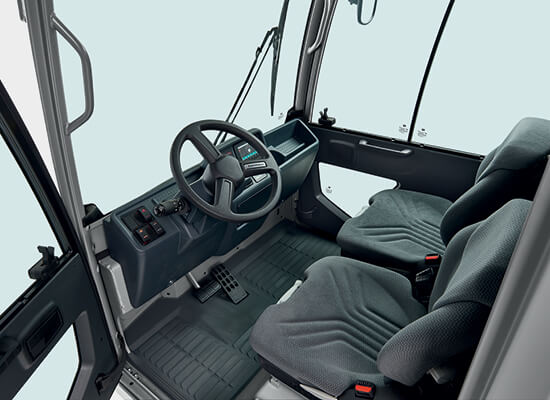 Ergonomic workstation features several designs implemented with the operator in mind, such as:
Automotive-style interior and operation with foot-pedal and adjustable steering column
Spacious cabin with optimum all-around view
Low entry step with level foot-well
Excellent visibility to the coupling from operator's seat
Outlet vents prevent window fogging
Total Cost Of Ownership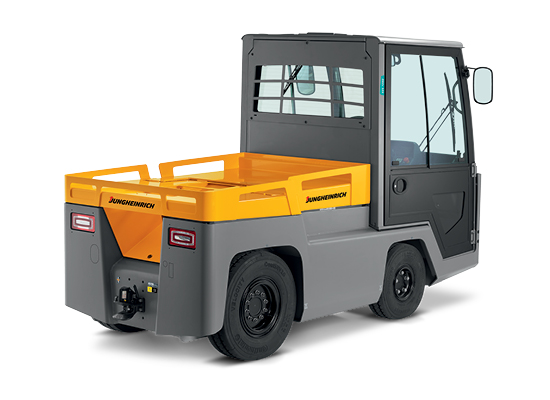 Total cost of ownership is minimized thanks to the combination of productivity features, energy and awareness designs, ergonomics, and uptime with its 1,000-hour service intervals.
| | |
| --- | --- |
| Application Type | Indoor/Outdoor |
| Min Lift Capacity | 0 |
| Max Lift Capacity | 0 |
| Max Lift Height | 0 |
| Min Lift Height | 0 |
| Power Type | Electric |
| Primary Function | GroundLevelTransport |