Mitsubishi Forklift Trucks IC Cushion FGC40CN
Mitsubishi Forklift Trucks

IC Cushion FGC40CN

FGC35CN-FGC40CN
Model

FGC40CN

Max Lift Capacity

8000

Max Lift Height

0
The 7,000 - 8,000 lb. capacity IC cushion tire forklift series plays a central role in material handling applications that primarily operate indoors and on smooth surfaces. Built to accommodate a broad array of industries, these forklifts move diverse loads, including bulky materials ranging from lumber to palletized finished goods.
Uptime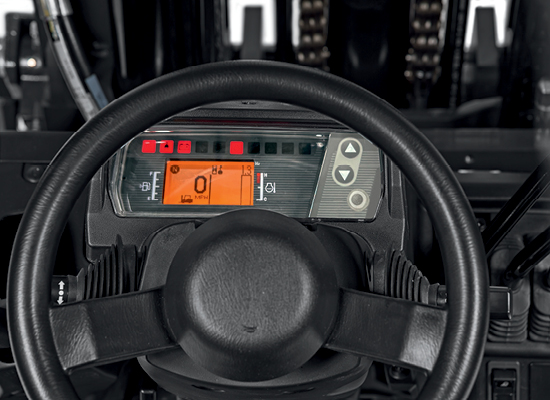 Self-Diagnostics –Standard warnings and icons on the display provide immediate truck status to help streamline troubleshooting.
Effective Cooling System –An electronic engine protection and warning system monitors radiator fluid and transmission oil temperatures while the bottom bypass air flow design allows air flow during travel, helping prolong engine life.
Extended Preventative Maintenance Schedule - 500-hour service intervals mean that labor, parts and downtime required for preventative maintenance are kept to minimal levels.
Maneuverability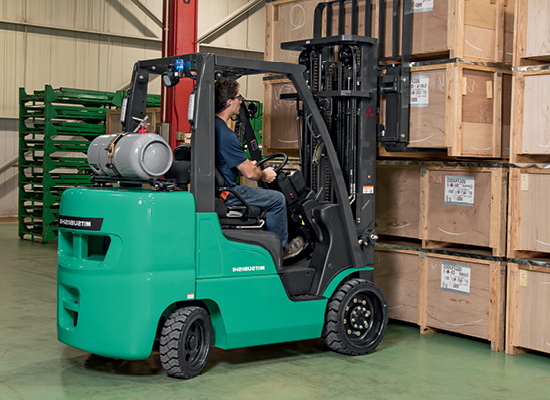 Compact Chassis - The compact chassis allows the operator to get in, out and around tight spaces efficiently.
Fully Hydrostatic Power Steering - The steering system enables maneuverability with less components and less effort, helping to improve productivity.
Operator Comfort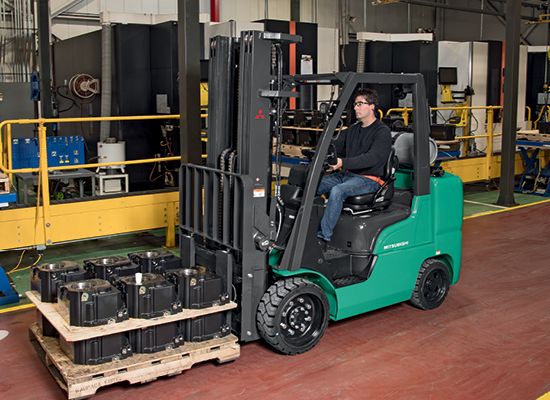 Reduced Vibration - The engine of the truck rests on rubber cushion dampeners designed to absorb vibration during operation.
Ergonomic Operator Compartment - The spacious cabin design features ergonomic leg room and pedal position to rest feet in a comfortable position, alleviating unnecessary stress in the ankles.
Full Suspension Vinyl Seat – The seat, suspension and lumbar support can be adjusted to a wide range of operator sizes comfortable throughout the shift.
Power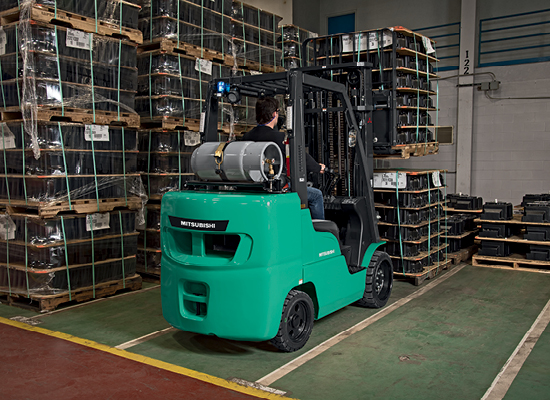 GK25 internal combustion engine – This powerful engine provides high levels of horsepower, while maintaining compliance with all CARB and EPA emissions regulations.
Electronic fuel injection system - Consisting of three control modules, the combustion process provides high levels of torque at lower RPM levels, saving in fuel consumption.
Fuel Saver Mode – This optional feature is easily activated by a toggle switch on the dashboard, saving on fuel costs without sacrificing the top travel speeds of the truck.
Awareness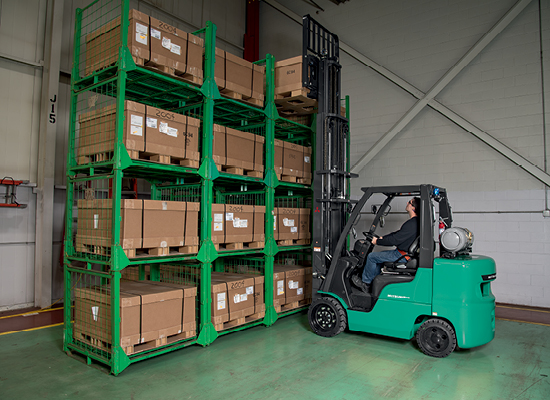 Cushioned Stability Control - The rubber damper mounted between the steer axle and frame can improve increased lateral stability, enhancing operator confidence and overall driving experience.
Standard Lights Package - With LED standard work lights mounted on the front of the overhead guard, operators have increased visibility to the area in front of the truck and through the mast to the fork tips, to operate with precision and efficiency.
Functional Steering Column - The steering column is combined with an open concept steering wheel that provides full visibility to the display. The operator can adjust the tilt column and use the memory feature to reposition the column in the prior tilt position in case the operator leaves the compartment.
| | |
| --- | --- |
| Application Type | Indoor/Outdoor |
| Min Lift Capacity | 0 |
| Max Lift Capacity | 8000 |
| Max Lift Height | 0 |
| Min Lift Height | 0 |
| Power Type | GasLP |
| Primary Function | Put Away/Retrieval |