Mitsubishi Forklift Trucks IC Pneumatic FD160AN
Mitsubishi Forklift Trucks

IC Pneumatic FD160AN

FD100N-FD160AN
Model

FD160AN

Max Lift Capacity

36000

Max Lift Height

263.5
The heavy duty FD100N-FD160AN series delivers the power and performance needed for the most demanding material handling applications.
Productivity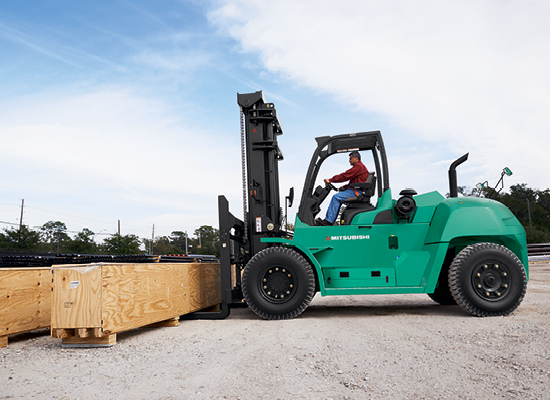 Perkins™ 1204F Diesel Engine – A 4.4L high performance four-cylinder twin turbo diesel engine delivers exceptional power with increased fuel efficiency.
Maintenance-Free Emissions System – This heavy-duty truck meets and exceeds all Tier 4 Final EPA requirements thanks to a maintenance-free SCR aftertreatment system.
Sequential Twin Turbochargers – The sequential turbo chargers produce a strong boost raising the engine power and performance while maintaining maximum torque at a wide rpm range.
Powershift Transmission – The 3-speed robust transmission is matched with the powerful engine, providing optimal torque for all applications. The torque converter maintains peak torque and a smooth ride for different engine and transmission speeds resulting in maximum power with a reduction in fuel consumption.
LCD/LED Display – The operator can monitor all critical systems via the LCD/LED display during operation to help reduce costs and the risk of excessive downtime.
Durability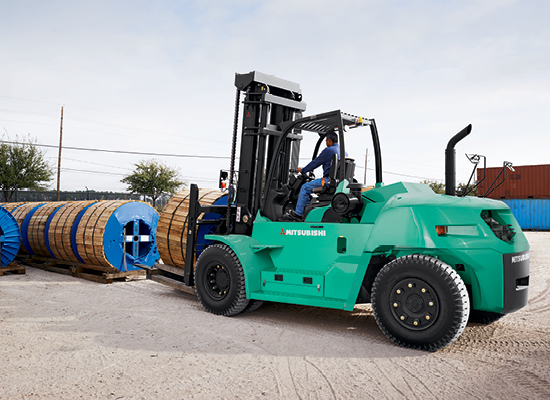 Engine Protection System – Running a forklift that's in need of maintenance can be costly. With the Engine Protection System, you can have confidence that your forklift operator will be warned if engine oil pressure, transmission fluid temperature and coolant temperatures need to be addressed.
Durable Steel Frame – Designed for harsh environments and rugged terrain, this Mitsubishi heavy duty truck frame is reinforced with steel plates for increased rigidity.
Serviceability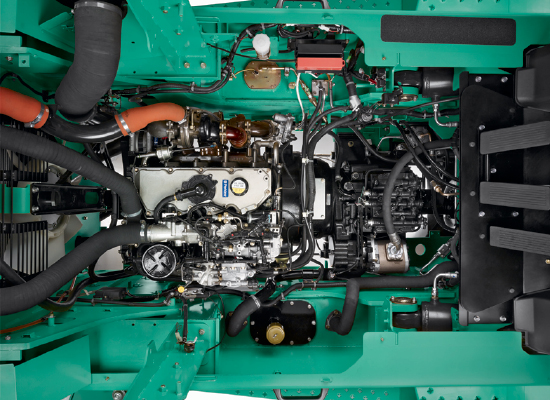 Easy To Service – Simplified maintenance means less downtime and more time on the job. This forklift's design makes accessing key components easy, and no tools are required to access the engine compartment - saving you valuable time and money.
500-Hour Service Intervals – Mitsubishi designed this forklift with extended service intervals in mind. 500-hour intervals mean reduced maintenance costs over the long haul.
Safety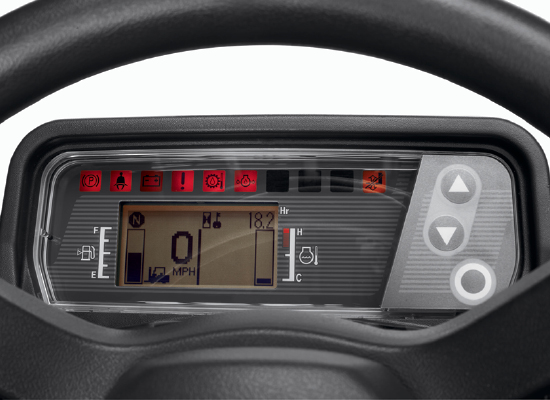 Integrated Presence System – Detects that the operator has their seat belt fastened. If not, the forklift will electronically lock-out powered travel movement and load handling functions. Additionally, a buzzer will sound and an icon on the display will further notify the operator.

Orange Seat Belt – Helps managers more easily identify whether an operator is wearing their seat belt.
LED Work Lights – LED lights have a longer lasting bulb life and more effectively light the work area. LED lights also have a longer operating life, reducing maintenance costs and downtime. The LED lights on the forklift are also covered under the standard warranty.
Operator Comfort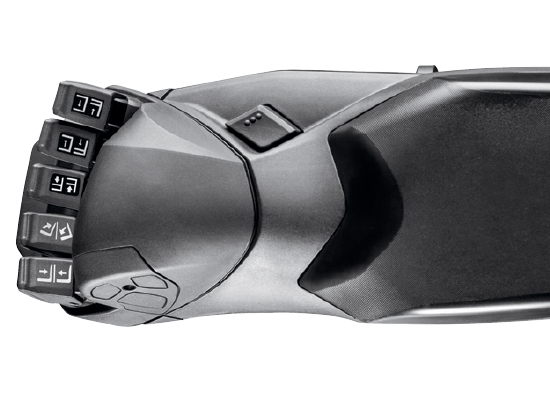 Fingertip Armrest Control – Designed with the operator in mind, the ultra-ergonomic fingertip armrest control provides precise load control with easy movement and comfortable hand positioning.
Optional Full-Suspension Vinyl Grammer® Seat – This seat helps reduce shock and vibration while optimizing comfort and productivity via 4-way adjustments, lumbar support, weight suspension and forward/backward adjustments.
Flexible Cab Options – For maximum operator comfort and protection from the elements, this forklift can be equipped with two cabin options: a fully-enclosed panel cabin and a wide cabin with these features:
Operator fan
High capacity heater system with defrost to circulate air evenly in the whole cabin
Elevated air intake pre-cleaner to prevent contaminants from prematurely clogging the air filter
High output alternator and auxiliary power plugs to allow for additional accessories
Spacious operator compartment
Premium double folding doors with the ability to lock in the open position
New floor plates design with easy access for service
Optional A/C package
| | |
| --- | --- |
| Application Type | Indoor/Outdoor |
| Min Lift Capacity | 0 |
| Max Lift Capacity | 36000 |
| Max Lift Height | 263.5 |
| Min Lift Height | 0 |
| Power Type | Diesel |
| Primary Function | LoadingUnloading |