Mitsubishi Forklift Trucks IC Pneumatic FD70N1
Mitsubishi Forklift Trucks

IC Pneumatic FD70N1

FD70N1
Model

FD70N1

Max Lift Capacity

15500

Max Lift Height

239
The FD70N1 delivers excellent fuel efficiency with superior dependability. The high-performance Perkins® 854F turbocharged, four-cylinder engine was designed for reduced fuel consumption - delivering an 18% increase in efficiency over the previous generation. This 15,500 lb. capacity forklift is built to deliver the power and performance that tough applications demand.
Productivity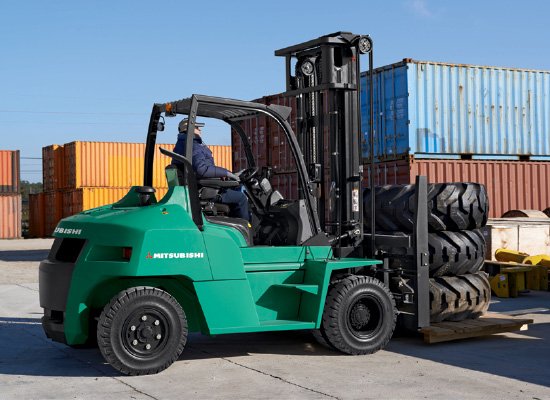 Perkins® 854F Diesel Engine – This series is equipped with a Tier 4 Final, 3.4L in-line four-cylinder turbo diesel engine that is built to perform. The diesel engine offers 23% more fuel efficiency than the previous generation for greater cost savings.
Maintenance-Free Emissions System – Meets stringent EPA Tier 4 Final emissions regulations through the use of the forklift truck's maintenance-free emissions system. Lees maintenance means greater uptime over the long run.
Greater Torque – The transmission's torque converter is precisely matched to the internal combustion engine to provide high levels of torque and a smooth ride.
Enhanced LCD/LED Display – The forklift operator can monitor all critical systems via the LCD/LED display during operation to help reduce costs and the risk of excessive downtime.
Durability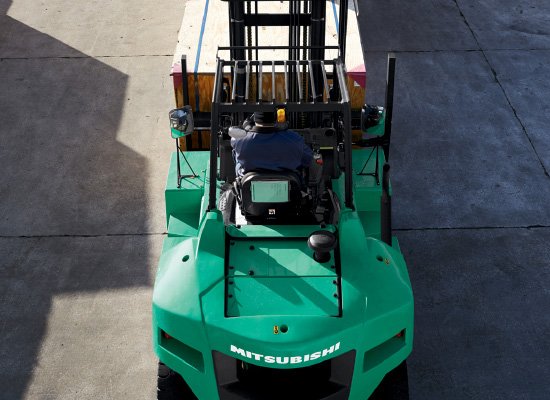 Engine Protection System – Your forklift truck will monitor engine oil pressure, transmission fluid and coolant temperatures and alert your operators when hazardous levels are reached. If the lift truck continues to operate at these low levels, the system will automatically limit certain areas of performance for added protection against unnecessary wear or damage.
100% Steel Frame – Steel frame construction provides durability when working in heavy applications.
Serviceability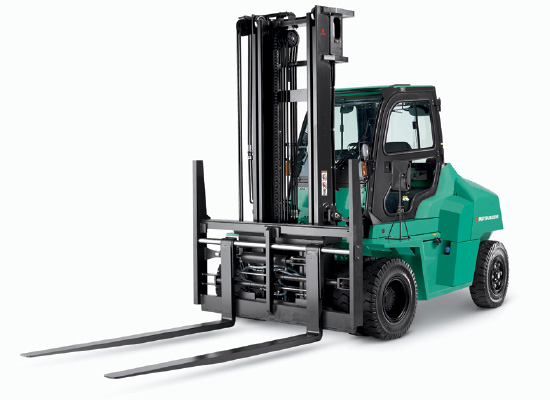 Easy To Service – Mitsubishi makes it easy for forklift maintenance technicians to access major components for service or routine maintenance. No tools are needed to access the engine, helping speed-up maintenance repairs.
500-Hour Service Intervals – With Mitsubishi's extended 500-hour service intervals, your forklift can run longer between planned maintenance intervals, saving you time and money.
Awareness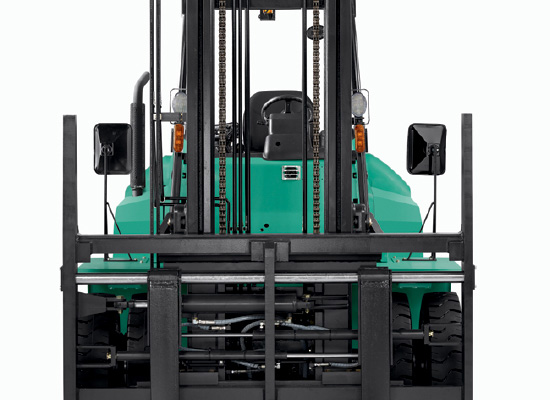 Integrated Presence System – This system locks out powered hydraulic functions and travel unless the operator is properly seated in the forklift with their seatbelt fastened. This standard feature helps protect both your operator and your load.

Orange Seat Belts – Clearly see if your operators are properly wearing their seat belts with the bright orange anti-cinch seat belt.
LED Lights – Free up time and keep your operators moving with Mitsubishi's forward LED work lights. You'll see significant maintenance savings over traditional halogen or incandescent lights, and these LED lights are covered under your standard warranty.
Operator Comfort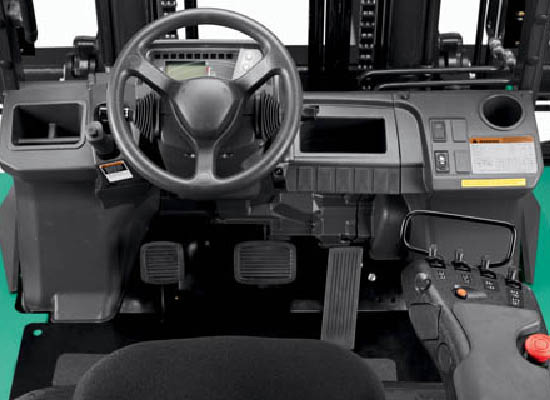 Easy Three-Point Entry – The elongated grab bar, low anti-slip entry step and steel hip restraint provide three stable points for your operator to make contact when entering and exiting the forklift.
Reduced Shock And Vibration – A fully-insulated engine hood and rubber mounted components help absorb shock and vibration that would otherwise reach your lift truck operator. Fully-enclosed wheel wells and helical transmission gears also reduce drivetrain noise that could lead to operator fatigue.
Hydrostatic Steering – This system is designed to minimize steering effort, providing greater operator comfort and reduced fatigue. When the forklift's steering wheel is turned, hydraulic oils flow into a small pump inside the steering valve. At the center of the pump is a pump rotor. When the steering wheel turns the pump rotor also turns. This standard feature means steering requires minimal effort.
Fingertip Controls In An Easy-To-Operate Adjustable Armrest (Optional) – Low-effort levers, precise operation and an infinitely adjustable armrest provide comfortable support with ease of use for operators throughout the workday.
| | |
| --- | --- |
| Application Type | Indoor/Outdoor |
| Min Lift Capacity | 0 |
| Max Lift Capacity | 15500 |
| Max Lift Height | 239 |
| Min Lift Height | 0 |
| Power Type | Diesel |
| Primary Function | LoadingUnloading |