Mitsubishi Forklift Trucks Electric Cushion FBC30LN
Mitsubishi Forklift Trucks

Electric Cushion FBC30LN

FBC23N-FBC30LN
Model

FBC30LN

Max Lift Capacity

6500

Max Lift Height

221
The 4,500-6,500 lb. series of electric cushion tire forklifts features exceptional comfort and durable construction. Designed to deliver high performance while being extremely efficient, this series maximizes power while using less energy. Seat-side hydraulic levers give the operator added comfort and ease in controlling the lift functions, while the truck's rock-solid frame ensures added stability during operation.
Productivity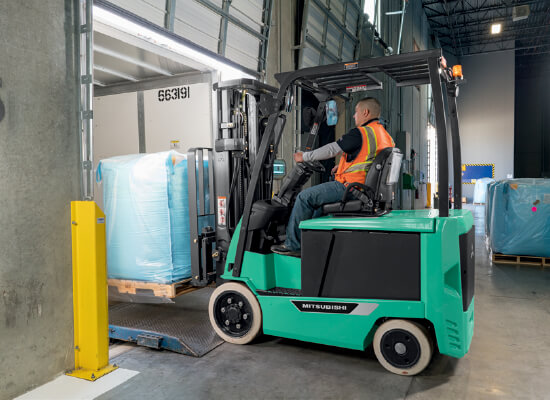 Exceptional Run Times – Work longer with up to two shifts on one battery charge without sacrificing performance.
Advanced drive system – no brushes or commutator
All AC hydraulic system
Enhanced electric power steering
Adaptable Performance Modes – Optimize your performance and efficiency by simply selecting one of the pre-set operating modes. Profits are maximized by achieving the right balance between output and economy.
Awareness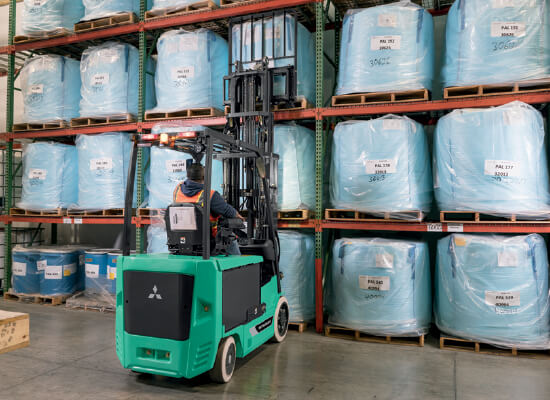 Integrated Presence System (IPS) – This integrated, computer-based feedback system uses both audible and visual indicators to alert the operator to potentially hazardous situations, while increasing operator awareness.

Flexibly Awareness Options
Foot directional control, for hands-free forward and reverse travel control. Ideal for rapid shuttle applications.
Rear grab handle with horn button, offers operators additional comfort while travelling long distances in reverse or in applications with pedestrians or high traffic.
Sideshifter for more precise load handling.
Higher or lower height overhead guard options are available to accommodate taller operators, low clearances or special storage racking configurations.



Orange Anti-Cinch Seat Belt – The bright orange color can be easily seen from a distance, making it easier to clearly see when operators are properly wearing their seat belt. When the operator is in the normal operating position, but the seat belt is not buckled, an audible warning will sound and a visible indicator will appear, alerting the operator.
Energy Efficiency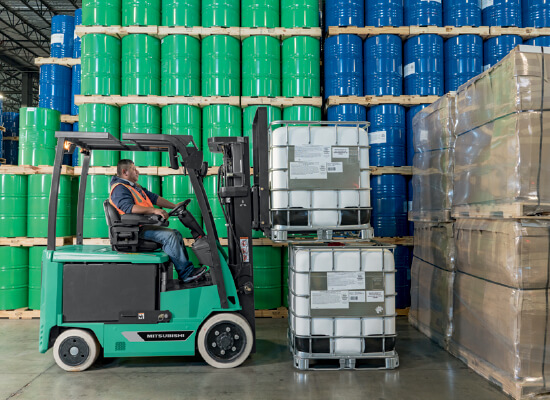 Run Longer: On One Battery Charge.
Thanks to the design of the FBC23N-FBC30LN models your operators can deliver the productivity you need to get the job done.
Key Features:
Advanced AC motors
Optimized regenerative braking system
Two-Stage Hydraulic System – The two-stage hydraulic system determines the optimum motor speed, resulting in reduced energy consumption and longer run times.
Ergonomics
Spacious Operator Compartment – From the beginning of the shift to the end, this forklift was designed for optimal comfort. Operators can easily adjust the seat to their preferences – from forward and backward adjustments, to added lumbar support and suspension. The low-profile steering wheel also provides extra space and comfort.
Ergonomic Hydraulic Levers, Optional Fingertip Controls – Located next to the seat, the hydraulic levers allow the operator's arm to rest in a natural, relaxed position while working. Optional fingertip controls are also available for added productivity.
Optional Full-Suspension Vinyl Grammer® Seat – This seat helps reduce shock and vibration while optimizing comfort and productivity via 4-way adjustments, including lumbar support, weight suspension and forward/backward adjustments.
Total Cost Of Ownership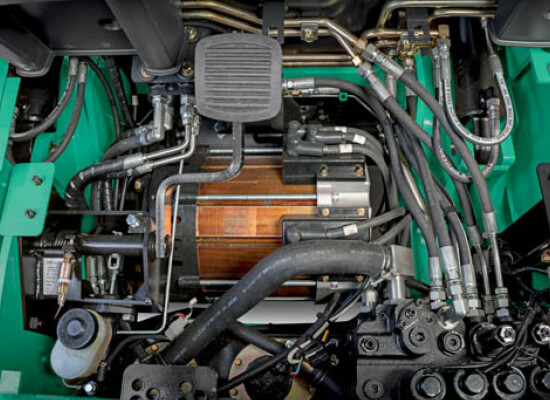 Easy to Service – Easily removable side, top, floor and rear access panels, make accessing the motors and major components simple, saving you time and money.
500-hour extended service intervals
Display-based maintenance reminders
Tool-free access to key service components
Re-designed LED Front Work Lights – These brighter lights provide excellent illumination while loading and unloading trailers or in dark areas. New narrow design offers better protection and easy access to trailer containers.

Rock-solid Frame – The all welded box frame and battery edge cover design helps to extend the life of your investment.
Lithium-Ion Battery Solutions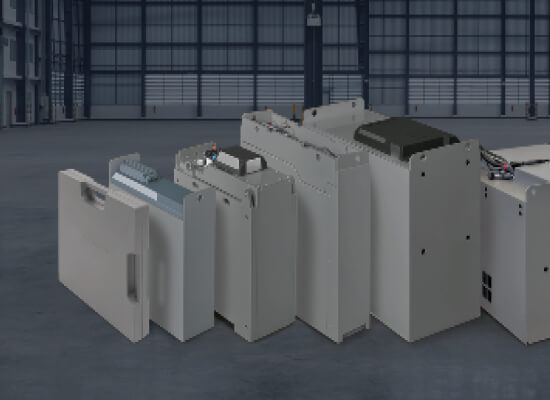 Lower Lifetime Cost
Lithium-ion batteries feature a lower cost of ownership than lead-acid batteries by eliminating excessive maintenance costs
Increase Productivity
Lithium-ion batteries can be charged to full capacity in a fraction of the time it takes to charge a lead-acid battery. Opportunity charging that can be interrupted at any time, prevents downtimes and ensures 24/7 truck usage.
Increase efficiency
The battery, vehicle and charger are all synchronized which allows for fast and efficient energy usage and charging capability.
| | |
| --- | --- |
| Application Type | Indoor |
| Min Lift Capacity | 0 |
| Max Lift Capacity | 6500 |
| Max Lift Height | 221 |
| Min Lift Height | 0 |
| Power Type | Electric |
| Primary Function | Put Away/Retrieval |