Mitsubishi Forklift Trucks IC Cushion FGC70K
Mitsubishi Forklift Trucks

IC Cushion FGC70K

FGC35K-FGC70K
Model

FGC70K

Max Lift Capacity

15500

Max Lift Height

233
Built to perform in demanding applications, this IC cushion tire forklift - available in 7,000 - 15,500 lb. capacity - offers options like the short turning radius and paper handling package to further optimize the truck systems. The PSI 4X 4.3 liter V6 engine meets strict CARB and EPA emissions standards while offering excellent fuel economy.
Productivity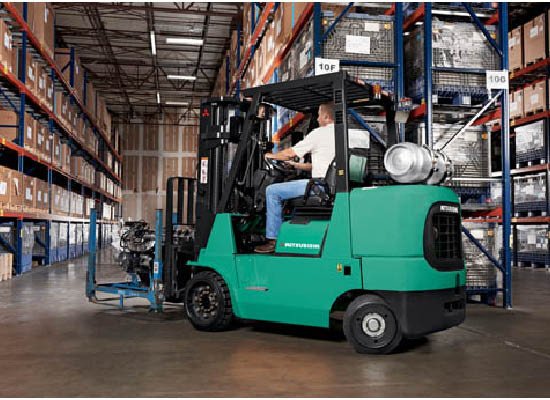 High-Performance, Low Emissions Engine – Designed for demanding conditions, the PSI 4X 4.3 liter V6 engine performs at top levels, while offering excellent fuel economy for greater savings. The forklift's engine has low emissions, meeting both the strict CARB and EPA emissions standards.


Short-Turning Radius – A shorter turning radius means operators can confidently turn in tight areas while helping to reduce damage to your facility and load.
LCD / LED Premium Display Panel – Operators have easy access to monitor critical systems in one central location. From the premium display panel, operators can easily monitor performance of vital lift truck functions and see indicators for things like engine coolant temperature, air cleaner service and transmission oil warnings.
Durability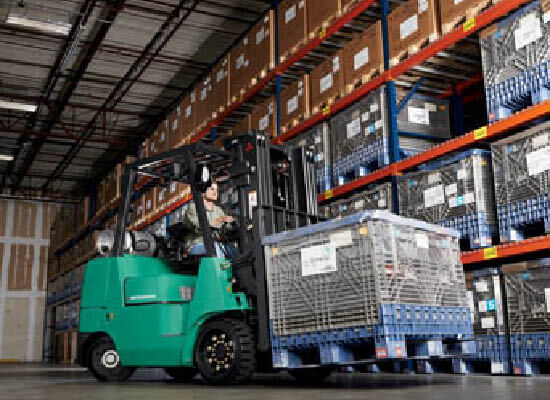 Engine Protection System – If a forklift truck continues to be operated even when engine maintenance issues are occurring, you are at risk for major damage. With the Engine Protection System, your operators can easily see when the engine oil pressure, and transmission fluid and coolant temperatures need maintenance. Your lift truck will also automatically decrease certain performance areas if operation is continued while maintenance is needed.
Strong 100% Steel Frame – For greater strength and protection.
Serviceability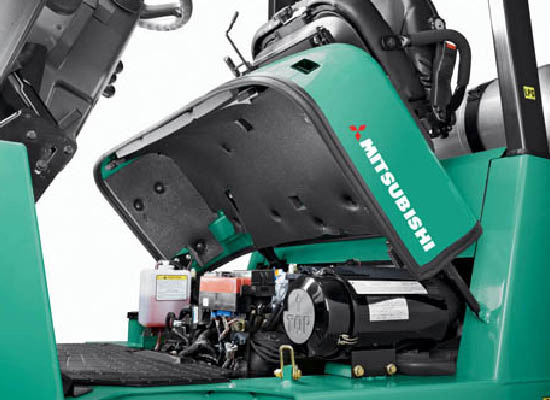 Easier Maintenance – No tools are needed to access the forklift's engine compartment, saving your technicians crucial time.
300-Hour Service Intervals – Mitsubishi's extended preventative maintenance plans, with 300-hour service intervals, save you valuable time and money.
Awareness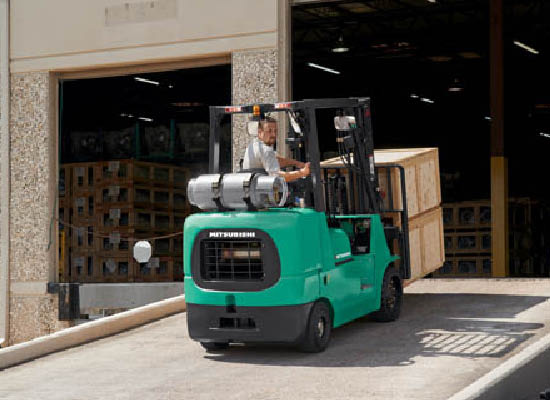 Integrated Presence System – This standard feature helps ensure operators are in the proper operating position and, if they aren't, an audible buzzer will sound, an icon on the display will illuminate, and the forklift's powered travel and hydraulic functions will be locked out.
Operator Comfort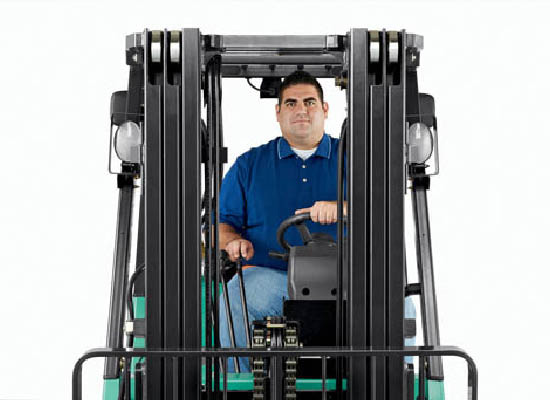 Optional Full-Suspension Vinyl Grammer® Seat – This seat helps reduce shock and vibration while optimizing comfort and productivity via 4-way adjustments, lumbar support, weight suspension and forward/backward adjustments.
Well-Designed Entry – With three strong contact points, operators can have confidence when they enter and exit a truck. The lift truck's elongated grab bar, low anti-slip entry step and steel hip restraint on the seat provide operators three secure contact points for entry and exit.
Options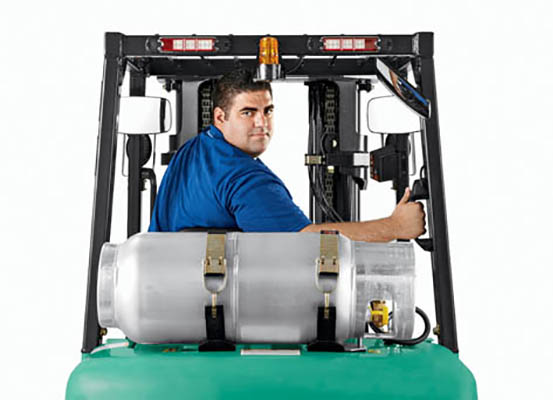 Customizable Design – Options and packages like the short turning radius and paper handling package will optimize the truck systems to suit your application.
Increased Flexibility – A wide variety of a la carte options offers added flexibility to customize a standard chassis to fit your application.
| | |
| --- | --- |
| Application Type | Indoor/Outdoor |
| Min Lift Capacity | 0 |
| Max Lift Capacity | 15500 |
| Max Lift Height | 233 |
| Min Lift Height | 0 |
| Power Type | GasLP |
| Primary Function | LoadingUnloading |