Mitsubishi Forklift Trucks IC Pneumatic FD35N
Mitsubishi Forklift Trucks

IC Pneumatic FD35N

FG15N-FG35N / FD20N-FD35N
Model

FD35N

Max Lift Capacity

7000

Max Lift Height

222
These 3,000 - 7,000 lb. capacity IC pneumatic tire forklifts are designed to move bulky materials ranging from lumber to brick and concrete. Offering some of the best travel speeds in the industry, this series is beneficial for applications requiring longer travel distances. Exceptional maneuverability and top lift and lowering speeds provide added productivity, shift after shift.
Productivity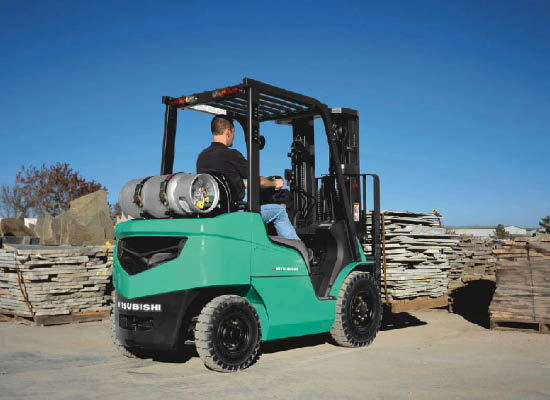 Powerful Engine With Low Emissions – Equipped with an efficient GK21 / GK25 engine, these forklifts offer the power you need. A drive-by-wire throttle control allows for enhanced efficiency, reduced emissions and responsive acceleration, while the exhaust system provides a three-way catalyst that lowers the amount of emissions released into the environment.
Tier 4 Diesel Forklift Engines – The new 4EG 3.3L diesel engine is built with cutting edge emissions technologies to meet the Environmental Protection Agency's (EPA) Tier 4 final requirements, while still maintaining the high levels of productivity that your business demands.
Greater Torque – For forklifts with 3,000 LB to 7,000 LB capacity, power is critical. These LP/gas and diesel lift trucks' transmission torque converter smoothly transfers the power from the forklift's engine and multiplies the torque sent to the transmission - increasing power on demand.
Durability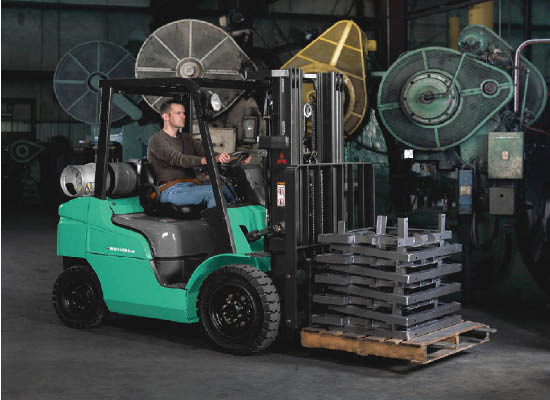 Standard Engine Protection System – Reduce the risk of major damage to your engine with the Engine Protection System. This system will continuously monitor certain areas of your engine and limit certain areas of operation if maintenance issues are not addressed.
Durable Steel Frame – Forklift trucks need to be durable, so our steel frames are built strong to help protect your lift truck during operation.
Serviceability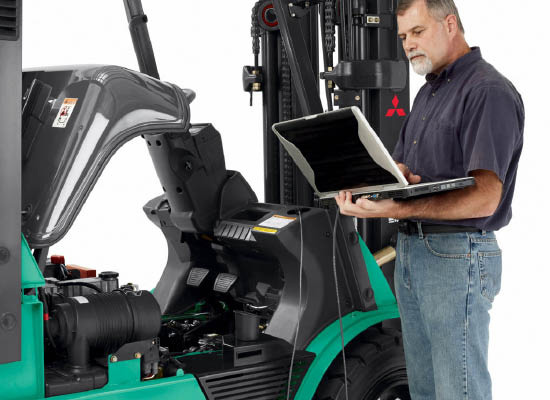 Easy Service And Maintenance – The rear-hinged engine hood gives you easy access to major components - without tools - so you can get your forklifts up and running quickly.
500-Hour Service Intervals – Spend less time and money on preventative maintenance with Mitsubishi's extended service intervals.
Awareness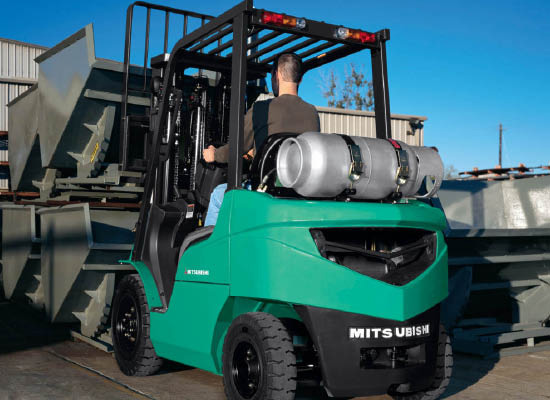 Integrated Presence System – Help ensure your operators are in the proper operating position with Mitsubishi's Integrated Presence System (IPS). This standard feature will lock-out powered travel and hydraulic functions of the forklift when the operator isn't in the proper operating position.
Orange Seat Belt – The bright orange anti-cinch seat belt makes it easier to identify when operators are not wearing their seat belts.
Forward LED Work Lights – Mitsubishi forklift's front LED work lights have a long life and will help save on maintenance costs vs. traditional halogen and incandescent lights. They are also covered in your standard warranty.
Operator Comfort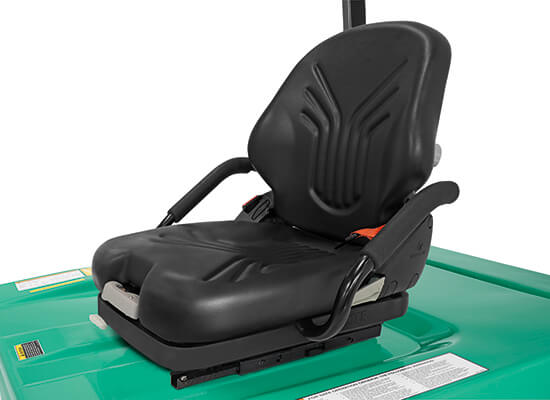 Secure Three-Point Entry / Exit – An extra long grip bar, a low height anti-slip step and steel hip restraint provide three solid points of contact when entering and exiting the forklift.

Less Forklift Noise And Vibration – Noise and vibration can take a toll on your operators. Mitsubishi's forklifts offer standard features to keep your operators less fatigued, including a fully-insulated engine hood, rubber mounted components, fully-enclosed wheel wells and helical transmission gears.
Easy To Steer – Our hydrostatic steering system makes steering the forklift easier for your operators and can also provide the added benefit of reducing your maintenance costs. No special tooling is required to pre-load the bearings, and the kingpin does not require greasing.

Fingertip Controls In An Easy-To-Operate Adjustable Armrest (Optional) – Low-effort levers, precise operation and an infinitely adjustable armrest provide comfortable support with ease of use for operators throughout the workday.
| | |
| --- | --- |
| Application Type | Indoor/Outdoor |
| Min Lift Capacity | 0 |
| Max Lift Capacity | 7000 |
| Max Lift Height | 222 |
| Min Lift Height | 0 |
| Power Type | GasLPDiesel |
| Primary Function | Put Away/Retrieval |